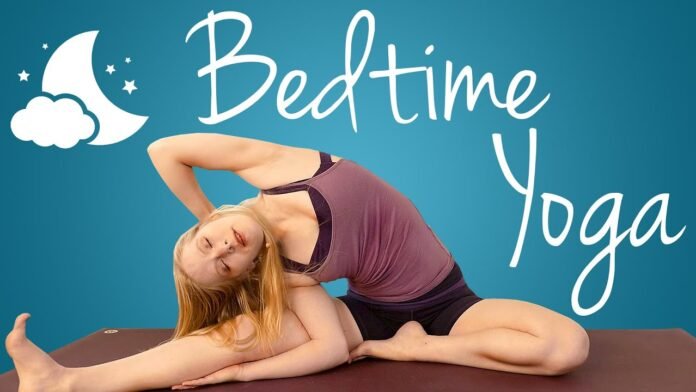 Bedtime Yoga: Modern life often comes with stress, anxiety, and the constant buzzing of our minds. As we navigate the fast-paced world, it becomes increasingly crucial to find ways to unwind and calm our bodies before bedtime. This is where bedtime yoga comes into play, offering a multitude of benefits that can transform your sleep and overall well-being.
Bedtime yoga, also known as sleep yoga, is a gentle and relaxing practice designed to soothe the body and prepare it for restful slumber. By incorporating calming poses, deep breathing, and mindfulness techniques, this form of yoga enables you to release tension from your mind and body, promoting a peaceful transition into sleep.
Read this also: In how many days a bedsheet should be changed ? Know here
Advantages of Bedtime Yoga
One of the primary advantages of bedtime yoga is its ability to reduce stress and anxiety. As we wind down for the night, our minds tend to race with thoughts and worries. Practicing yoga helps to quiet the mental chatter, bringing a sense of calm and relaxation. The combination of gentle stretches and focused breathing helps activate the body's relaxation response, lowering stress levels and promoting a better quality of sleep.
Furthermore, bedtime yoga can help alleviate physical discomfort. Whether you suffer from tight muscles, back pain, or stiffness, certain poses can provide relief, allowing you to find comfort in your bed. Gentle stretches such as child's pose, supine twist, and happy baby pose help release tension and elongate the muscles, easing any discomfort that might hinder a good night's sleep.
In addition to physical benefits, bedtime yoga can enhance mental clarity and improve focus. A regular practice helps train the mind to be present and fully engaged in the current moment. This heightened awareness allows you to let go of the day's worries, preventing rumination and promoting a more peaceful mindset as you prepare to sleep.
Getting started with bedtime yoga is simple. Begin by dedicating a few minutes to unwind before bed, creating a peaceful environment free from distractions. Dim the lights, play soothing music if desired, and roll out your yoga mat or find a comfortable space on your bed.
Start with gentle stretches, such as cat-cow, forward folds, or gentle twists. Aim for fluid movements that feel comfortable, focusing on the breath and allowing yourself to fully relax into each pose. Gradually transition into more restorative poses like legs-up-the-wall or supported fish pose, deepening relaxation and inviting a sense of serenity.
Remember to pay attention to your breath throughout the practice, inhaling deeply and exhaling slowly, guiding yourself into a state of tranquility. Stay in each pose for as long as feels comfortable, ensuring that you are able to fully relax your body and mind.
As bedtime approaches, conclude your practice by spending a few moments in a comfortable seated position, focusing on gratitude and setting positive intentions for a restful sleep. Take this time to acknowledge the efforts you made to bring peace and self-care into your routine.