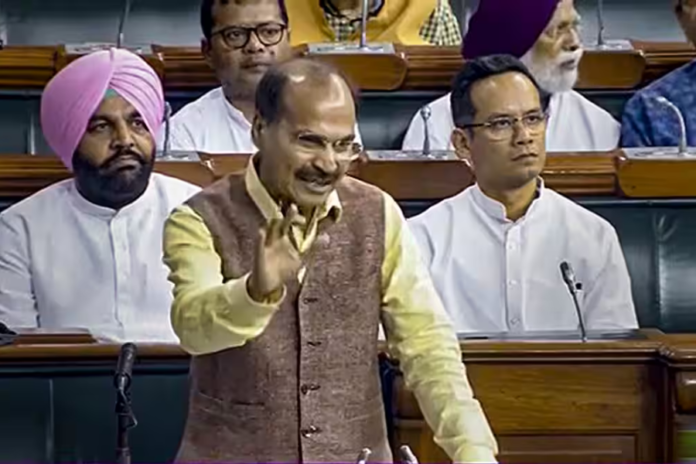 Adhir Ranjan Chowdhury, the leader of the opposition in the Lok Sabha and a member of Congress, was expelled from the chamber on Thursday due to "unruly" behaviour. Pralhad Joshi, the minister for parliamentary affairs, introduced the motion to suspend.
Chowdhury compared Prime Minister Narendra Modi to the blind character Dhritarashtra from the Hindu epic the Mahabharata while speaking in the Lok Sabha on Thursday during a discussion on the no-confidence motion introduced by the Opposition.
He said, "Jab Dhritrashtra andhe the, tab Droupadi ka vastra haran hua tha, aaj bhi raja andhe baithe hai… Manipur aur Hastinapur mein koi farq nahi hai."
Moreover, Chowdhury compared PM Modi to wanted criminal Nirav Modi.
The ruling party reacted angrily to Chowdhury's comments. "Basicless allegations against the Prime Minister cannot be accepted," Joshi declared. He needs to apologise and this should be erased.
Lok Sabha Speaker Om Birla was requested by Union Home Minister Amit Shah to request Chowdhury to display restraint and uphold the decorum of the House.
Later, Lok Sabha Speaker Om Birla claimed that some of Chowdhury's comments had been removed from the record.
Replying to Amit Shah's 'Quit India' call during his speech in the Lok Sabha, Chowdhury said, "Quit India must happen – quit India from communalisation, quit India from polarisation, quit India from saffronisation."
Chowdhury's speech was launched when PM Modi entered the Lok Sabha.
"The power of no-confidence motion has brought the Prime Minister in the Parliament today. None of us were thinking about this no-confidence motion. We were only demanding that PM Modi should come to the Parliament and speak on the Manipur issue. We were not demanding any BJP member to come to the Parliament, we were only demanding our PM to come," Chowdhury said.
Chowdhury also spoke on the violence in Manipur.
"The violence in Manipur is not a small issue. Manipur is facing ethnic violence and a civil war. It has assumed global dimension and was discussed in European Parliament as well as in America. Manipur issue cannot be confined to any state and that is why Prime Minister's intervention is indispensable," he said.