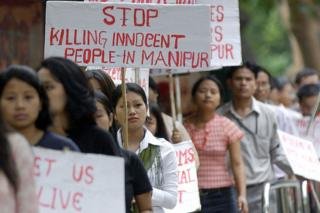 Manipur violence: In a shocking turn of events, the women of Manipur, a northeastern state in India, took matters into their own hands after a gruesome sexual assault case enflamed the nation. Frustrated with the slow response of the authorities, they rallied together and attacked the house of the main suspect, demanding justice for the victim. This incident has brought to light the deep-seated issues surrounding gender-based violence in the region and the urgent need for change.
The incident in question involved the alleged sexual assault of a young woman in the state. According to reports, the victim was attacked by several men, leaving her traumatized and in a critical condition. The news of the assault spread like wildfire, sparking outrage and anger across the country. A group of "clothed men" dragged two tribal women on the streets and made them parade nakedly on May 4. The assault took place two months ago but captured national attention after the video went viral in July.
Read this also: Know about the two communities of Manipur: Kuki and Metei
Women set fire to the house of suspect in Manipur
Police arrested the main suspect on Thursday after PM Narendra Modi promised to take tough action regarding the assault happened. The police are also tracing atleast 30 of the others involved in crime. Hemant Pandey, a senior police officer in Imphal said that "Local women pelted stones and burnt some houses belonging to the prime accused in village." He further said that "We request women to protest peacefully as there is intense unease. We understand the rage."
Despite the gravity of the crime, the response from the authorities was disappointingly slow. The lack of urgency displayed by the police and the justice system only added to the frustration and anger among the people. This delay prompted the women of Manipur to take matters into their own hands, seeking justice for the victim and pushing for immediate action against the perpetrators. Driven by a collective sense of anger and solidarity, hundreds of women from all walks of life gathered outside the house of the main suspect. Demanding justice, they mobilized in a protest that soon escalated into aggression. The women attacked the suspect's house, expressing their fury and demanding attention from the authorities.